Vincent Chong: i love you more than you'll ever know
May 20 – June 19, 2022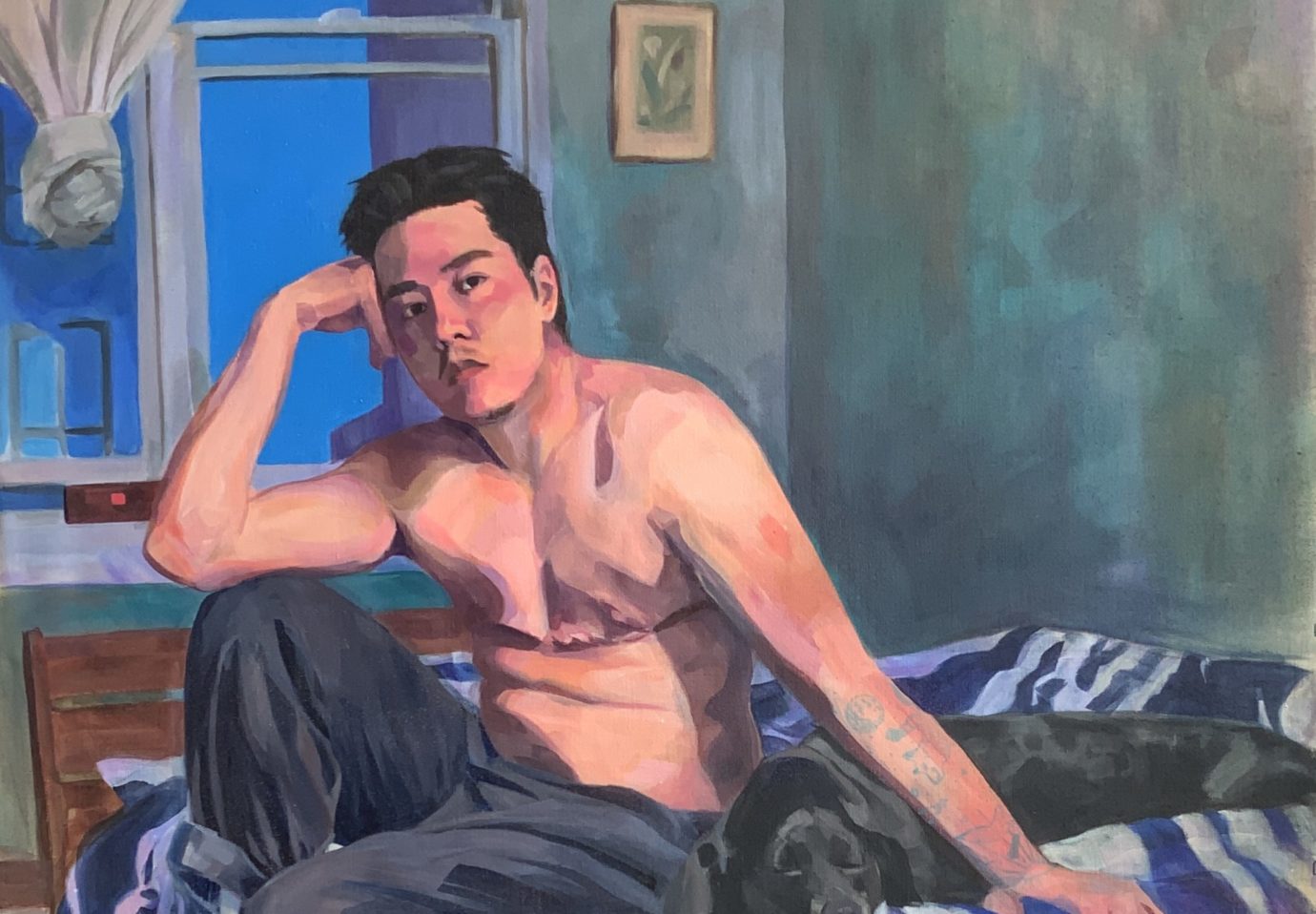 Vincent Chong
i love you more than you'll ever know

May 20–June 19
Opening party May 20, 19:00–22:00!! – collab with SWEAT!
Performance May 20, 21:00–21:30 – pussy calligraphy
Artist talk May 21, 16:00–17:00 – LIVE + streamed + recorded
Performance May 22, 16:00–16:30 – tiger bby cvnt at Inter Arts Center
Curator C. Grace Chang
Opening party
We're kicking off opening night with a mini SWEAT club and a performance by Vincent Chong at 21:00! SWEAT is a DJ collective and queer club night. Put on your cute boots and come as you are, whoever you are 😉
Performances
2 different performances at 2 different locations! Blending drag, Chinese calligraphy, and contemporary queer Asian diasporic club culture. pussy calligraphy will take place at the opening party at Skånes konstförening.
tiger bby cvnt will be at Inter Arts Center on Bergsgatan 29 in Malmö.
Artist talk
This talk will be a 45-minute conversation between two Asian American queer artists Vincent Chong and curator C. Grace Chang, plus 15 minutes for questions at the end. This talk will be at Skånes konstförening, but we will also livestream and record it.
Exhibition
Vincent Chong is an American artist and community organizer who mixes drag, Asian American queer club culture, painting, and traditional Chinese artistic practices. This debut solo exhibition is a love letter from Vincent to their fellow diasporic East and Southeast Asian queer and trans community in New York and beyond.
From 5 large-scale paintings to a hand-bound book of 88 watercolors, Vincent uses portraiture to explore his deep abiding love for their community and queer Asian futures. From performance to Chinese calligraphy to painting, Vincent dives deep into the ways in which members of their community create space to imagine/reimagine themselves and the world—to play, to breathe, to just be.
Vincent also engages traditional Chinese art forms in a queer, contemporary way by reinterpreting the 1000+ year old practice of The Three Perfections: painting, poetry, and calligraphy. During the Northern Song dynasty (960–1127 AD), these three art forms became an intertwined practice for self-expression, typically among scholars and officials.
In Vincent's performances, these art forms take shape among gold ink, high heels, and a whole lot of red. Iconographies and practices from Chinese art history and contemporary queer Asian America come together in performances that serve as celebrations of the artist's own diasporic queer community.
Artist bio
"Working and Living in New York City has given me opportunities to learn about myself and others. I am grateful for my community of qtpoc siblings. They give me space and support to learn to love and care for myself, my community, and others. Moving forward, I hope to learn as much as I can, sharing what I know along the way."
Vincent Chong is a queer, mixed-race Chinese American artist from New York. Their practice spans Chinese calligraphy, seal engraving, painting, printmaking, community organizing, and performance art. Prior to living in New York City, they spent two years studying with 吳文勝老師 Wu Wensheng, a Chinese Calligraphy teacher.
Currently based in Brooklyn, they have completed a year-long residency for the 2019-2020 cycle at the Center for Book Arts, the Wing on Wo Project residency in Chinatown (2019), and the GALLIM Moving Artist Residency (2022), and more. They have performed at the Metropolitan Museum of Art (2020, 2022) and also at MoMA PS1 (2019) as part of Bubble T, the queer Asian dance party collective.