Hanni Kamaly: IT'S ALL REAL YEAH COME THROUGH
Nov 17 – Dec 10, 2017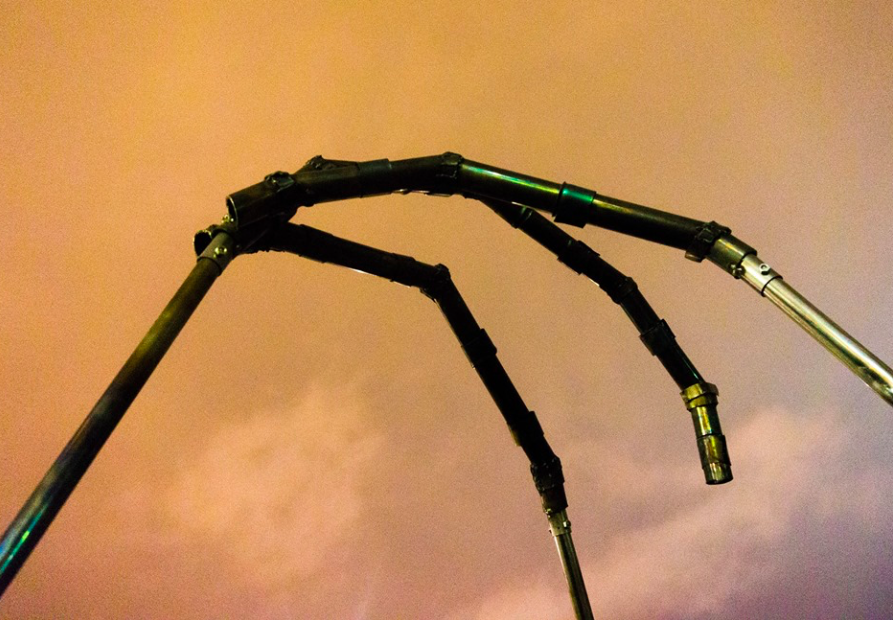 Hanni Kamaly: IT'S ALL REAL YEAH COME THROUGH
Sven och Ellida Hjorts Grant Exhibition
November 17–December 10, 2017
In her artistic works, Hanni Kamaly investigates human consciousness, subjectivity and dehumanization, by examining how representations of the human body relate to ideologies of racism and colonialism. Kamaly's process is research based and responds to news events, science fiction, museums and post-colonial theory, which are made evident in her sculptures, video, and performance works.
At Skånes konstförening, Kamaly is presenting new sculptures alongside a new video work. In the exhibition, metal sculptures move between the realm of dead material and life – through their materiality and form they become android-like creatures in the space. The sculptures embody a tension between strength and fragility, as their verticality is a precarious balancing act. In her new video work, Kamaly examines the collecting of human body parts in museums, sampling material from historical collections, film clips, and her own text. A mind-map connecting the colonial past with the present grants a critical perspective on the impact of historical events and taxonomic systems.
As part of the exhibition a publication with texts by Hanni Kamaly, Joa Ljungberg, Iman Mohammed and Guido Santandrea will be released alongside a performance at Skånes Konstförening.
Hanni Kamaly is this year's recipient of the Sven and Ellida Hjorts Exhibition Grant. Starting in 2017, Skånes konstförening will grant an annual stipend to a young artist based in Skåne. The artist is awarded 20 000 SEK and receives a production fee to produce an exhibition at Skånes konstförening. A committee appointed by the board at Skånes konstförening chooses the recipient. The committee of 2017 consisted of Albin Hillervik (Skånes Konstförening), Thore Sonesson (Skånes konstförening) and Joa Ljungberg (Curator, Moderna Museet Malmö).
The exhibition is curated by Albin Hillervik and Anna Wahlstedt.
Hanni Kamaly is educated at the Bergen Art Academy, International Academy of Art Palestine in Ramallah and Malmö Art Academy.  She has exhibited her works in solo exhibiton at Almanac Projects (London), All Welcome (Vilnius) and Tag Team Studio and participated in solo exhibitions at Malmö Art Museum, Galleri Arnstedt (Östra Karup), Sölvesborgs Kunsthalle, Palladium (Malmö) among others. She has had residencies at IAC (Malmö) and Rubert Centre of Arts (Vilnius) and in 2017 she taught within the course The World Turned Upside Down: art and ethics in the rise of the Stone Age South with professor Sarat Maharaj at Malmö Art Academy.