Black Archives Sweden: Spatial considerations
Nov 26, 2022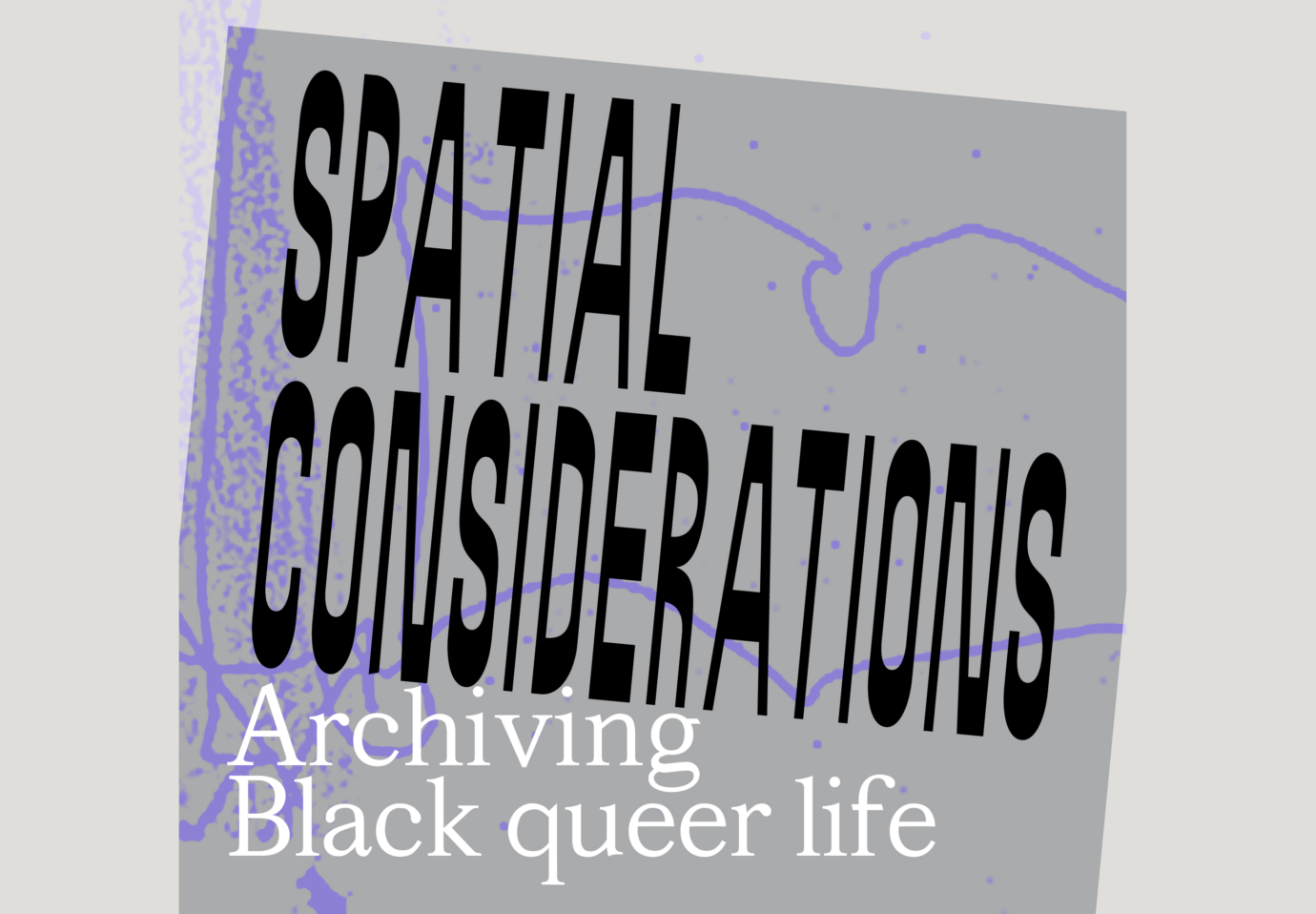 Spatial considerations: Archiving Black queer life
Saturday November 26th, 15.00–18.00
For this presentation and talk, we focus on the intersection between public space and archives, paying specific attention to Black queer lives and archives. We ask the question of how to archive Black queer life, sites of intimacy and their subsequent implications on Black queer social life. How do we pay attention to archival material central to queer world-making: senses, desire, affect, fluids, tactility, opacity and so on, that refuse archival scientism? Furthermore, we ask if it is possible to archive Black queer life and experiences without taking space seriously.
To tease out reflections, thoughts, further questions, tensions on what a Black queer archive is (can be and not be) along with the role space plays, Black Archives Sweden together with Plattform KcSyd have invited the artists Ajamu X and Evan Ifekoya to present their practices. Their presentations will be followed by a moderated conversation between the artists on the role of archives in Black queer world-making, led by the independent curator Tawanda Appiah.
This event will be in English and will be visually documented live by Abdul Dube.
About the participants
Ajamu X is a darkroom/fine art photographer with over 25 years of experience exhibiting in museums, galleries, and alternative spaces worldwide. Ajamu is also a radical sex activist, independent scholar, and co-founder of rukus! Federation, and the award winning rukus! Black LGBTQ Archive. His work includes portraits and self-portraits, which unapologetically celebrates black queer bodies, the erotic senses, desire, and pleasure as activism. He is also a leading specialist in Black LGBTQ history, heritage, and queer cultural memory in the UK.
Evan Ifekoya's work in community organising, performance, sound, text and video is an extension of their calling as a spiritual practitioner. They view art as a site where resources can be both redistributed and renegotiated, whilst challenging the implicit rules and hierarchies of public and social space. Through archival and sonic investigations, they speculate on blackness in abundance. Strategies of space holding through architectural interventions, ritual, sound and workshops enable them to make a practice of living in order not to turn to despair.
Tawanda Appiah is a Zimbabwean independent curator, researcher and writer based in Malmö, Sweden. He is part of Njelele Art Station and previously worked as a co-curator at Skånes konstförening and Curator of Education & Public Programming at the National Gallery of Zimbabwe. In 2021 he co-curated the GIBCA Extended exhibition – Comforting the machine. Other projects and interventions include No Country Like (Skånes konstförening, 2018); Better Safe and Sorry (Moderna Museet, 2018); On Practices (Malmö Konsthall and Skånes konstförening, 2019); To Where Are We Beautifully Going? (2020); in(visible) (Malmö Konstmuseum, 2021). Appiah sits on various boards including Paletten Art Journal.
Abdul Dube is a multidisciplinary artist, designer, curator and workshop facilitator based in Aarhus, Denmark. His work concerns questions of multicultural belonging, racism and resistance, intersectional solidarity, heritage, sustainability aka survival, Black imagination and artivism.
This event is produced by Black Archives Sweden and Plattform KcSyd, with support from Skånes Konstförening and The City of Malmö.
Graphic designer: Anna Sagström