Petter Dahlström Persson and Matti Sumari: Paragoge
Sept 1 – Oct 1, 2017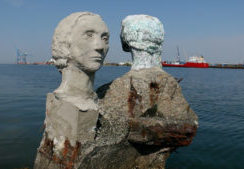 Petter Dahlström Persson and Matti Sumari: Paragoge
1 September–1 October 2017
Opening, Friday, September 1, 6-9pm
Matti Sumari's Cementa & Toyota – A Fable of Two Sisters is an essay film about two site-specific sculptures, known as the sisters Cementa and Toyota, located in Mellersta hamnen, on a forgotten deserted strip of artificial land, among fenced industrial areas in the outskirts of Malmö's harbour area. The site is the last part of public land outside of Toyota's depot for new vehicles, watched over by Cementa's huge cement silos. At this artificial place, the sisters contemplate their environment, reflecting upon their living conditions, consciously aware of both their own and the artificial nature of the surroundings.
Petter Dahlström Persson's sculptural installation Tidens budbärare are based on the distinctive architecture that characterizes the carrier pigeon clubs at Valdemarsro in Malmö. This architecture has emerged based on the habits and needs of the carrier pigeons. The wooden houses of the clubs have spread organically across the area, without any overall plan. In total the clubs, run by enthusiasts, have 18 cottages that can hold up to 300 pigeons between May and August. In his project, Dahlström Persson is also interested in the fact that photographic techniques, as well as other methods of mass communication, developed as the interest in carrier pigeons decreased.
BIOS:
Petter Dahlström Persson's work often takes as their point of departure the possibilities, limitations and histories of photography. He has, as an example, explored the early photographic method Cyanotype, a technique that required sunlight when, characteristically blue, images were developed. Dahlström Persson's art is also related to archiving and anthropological methods (besides the carrier pigeon, he has worked with the mythological sea monster Storsjöodjuret in Storsjön). The anthropological gaze of Dahlström Persson is, however, often turned "inside out," by making the public focus not only on the study object, but also on how the study object affects the viewer. Petter Dahlström Persson studied photography at the University of Gothenburg, and fine art at Konstfack in Stockholm. His work has previously been exhibited at the Östersund City Museum and at Galleri Monitor in Gothenburg. He was born in 1988 and is active in Malmö.
Matti Sumari works with video, sculpture and installation. His installations are reminiscent of ad-hoc architecture, and often consist of found or easily accessible materials. Sometimes Sumari's work takes the form of sculptures that are intimate or habitable, or with a direct function (for example, adapted for plant breeding or tea drinking). His sculptures can be said to resemble models for a life in an u- or dys-topical present or future. His videos relate to the same visual landscape, not least Cementa & Toyota–A Fable of Two Sisters, borrowing from genres, such as science fiction or fantasy. Sumari is educated at the Umeå Academy of Fine Arts and has participated in group exhibitions at Fondazione Antonio Ratti, Como, Italy, 2016, and Kunsthal Charlottenborg, Copenhagen, Denmark, 2015. He was born in 1987 in Helsinki and lives and works in Malmö.
Read more about the exhibition here.
Curators: Hans Carlsson and Sebastian Dahlqvist.
*Paragoge is a term for a letter or a syllable that is added to a word by "natural" language use, or because of grammatical rules. As in the use of spontaneous language sounds that have been given lexical significance over time, as in "among-st" (previously among). From Greek 'para'– alongside and 'agōgē' – carrying.