Open Call: Third Space Residency 2022
Apr 3, 2022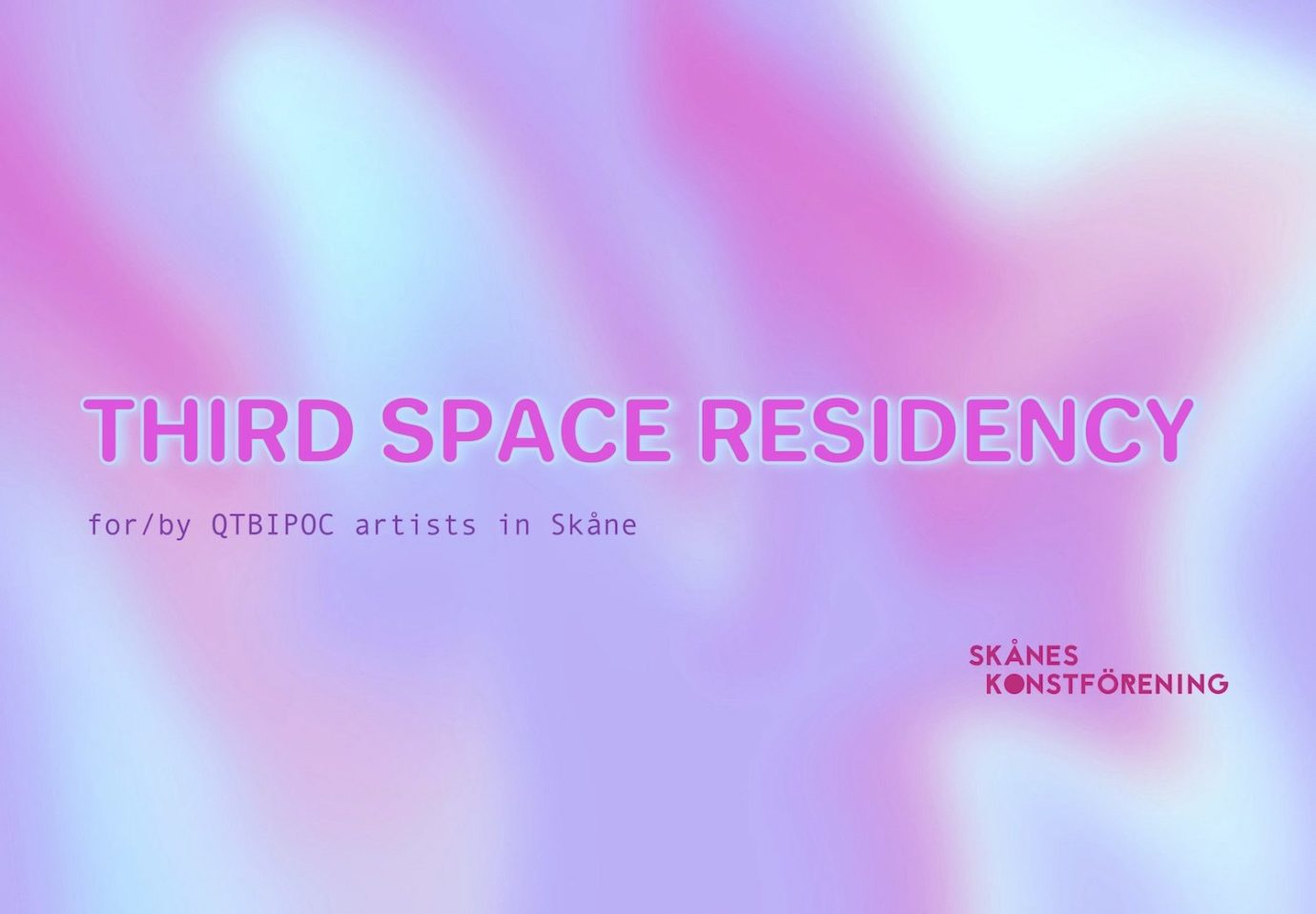 Open Call for Third Space Residency 2022
Skånes konstförening is bringing back the Third Space Residency for 2022! This year's focus is video art. Whether you use a smartphone or a cinema camera, we welcome Skåne-based artists of all skill levels to apply.
With this residency, we want to encourage new voices and emerging artists. Though all artists in Skåne are welcome to apply, we hope to create a space especially for BIPOC and QTBIPOC artists here.
Degrees are fine but not required. Above all, we're looking for vision, drive, independence—and a willingness to participate in critical group discussions.
Apply here before April 3!
How it works
From April 27–September 23, you will receive a mentorship with a local artist together with curator C. Grace Chang to develop your creative vision and technical skills. Your video artwork may also include external components, e.g. physical installation, accompanying sound art.
You will each create a video artwork in response to the prompt below. (Scroll down). This year, the prompt comes in the form of a literary quote from novelist Akwaeke Emezi. Feel free to interpret as you wish. Aspects, words, feelings, themes—they're all fair game.
All participants will attend group workshops, where we will have critical discussions. This will include creative and technical feedback, plus some pedagogical sessions.
Participants will debut their video artwork in a group exhibition at Skånes konstförening. Participants will receive an artist fee in accordance with the MU-agreement for the exhibition.
Prompt
Honestly, Yshwa, I just want to rest. Let me find a place where even if I'm alone, I can sit on my veranda and look at a mango tree and we can just talk. You will be the words in my mouth and the ones that fall from my fingers; you will be the one to whom I direct my longing.
– Akwaeke Emezi, Freshwater
This prompt is a starting point. It's not about making a literal narrative. Interpret away! You might explore feelings, imagined spaces, metaphorical love letters—or not! It's up to you.
About the residency
The Third Space Residency aims to cultivate a space of community for local QTBIPOC artists. While "third space" refers to the postcolonial condition of hybridization of societies, places, and people—it also describes spaces of in-betweenness.
Our main goal is a "for us/by us" space where BIPOC (especially queer, trans, and NB) artists aren't just in the conversation but are actively leading it. The Third Space Residency was created in 2020 by Skånes konstförening's curator C. Grace Chang.
Got questions? Email us at info@skaneskonst.se
Detailed information
– Application deadline: April 3, 2022. Apply here!
– Residency period: 5 months (April 27–September 23)
– Production budget: 4000 SEK/person
– Exhibition fee: 5000 SEK/person
Format
– 8 group workshops/feedback sessions
– Scheduled individual feedback sessions with mentors
– Group exhibition at Skånes konstförening (September 23–October 23)
– Each participant receives artist fee for the final exhibition (according to MU-agreement)
Language
– Swedish and/or English, depending on the needs of the group
Requirements
– Create video artwork in response to prompt (below)
– Passion and persistence
– Ability to work independently
– Attend all workshops
– Openness to critical group discussions
– Resident of Skåne
Accessibility & Covid-19 measures
Participants can choose to work 100% remotely, but we will also give access to a dedicated work space. We will continue to follow all recommendations from the Public Health Agency of Sweden and will proceed 100% remotely if the situation requires it. Elevator entrance is located a few meters to the left of the main entrance to the building.
Curator: C. Grace Chang