Regarding exile: Shortfilm night
Dec 21, 2015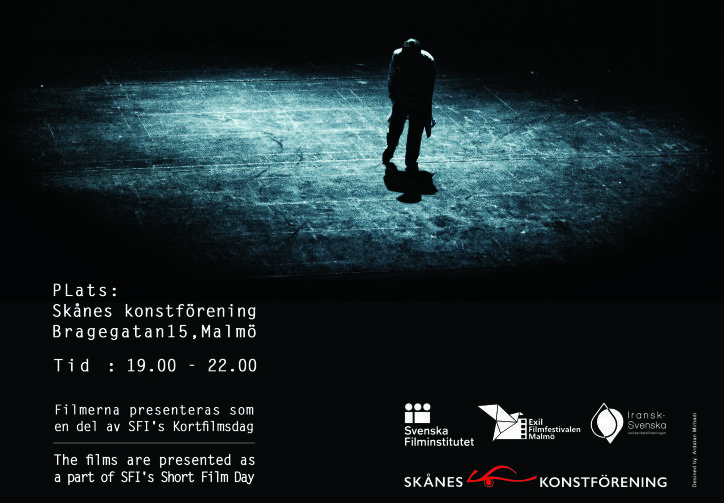 Regarding exile: Shortfilm night with support from Filminstitutet
19-22
Free entrance
In a time when europes as well as the rest of the worlds geopolitical state forces poeople to flee, to exile. In a time when linguistic displacements marks bodies – in this time we believe in the importance to commonly approach questions and experiences related to exile, mediated through film and art. Together with Exilfilmfestivalen we aim to pluralize the understandment and definition of the word exile by presenting 13 short films that in different ways relate to and investigate exile. These films include everything from documentary films with personal experiences as point of departure to fiction and art films.
The following films will be shown:
The logic of the birds – Sarah Beddington
Krisdokument, En överlevnadsguide – Elisabeth Marjanović Cronvall Marta Dauliūtė
The Mask – Athina Kanellopoulou
Cold War Christmas – Emma Penaz Eisner
The International – Tatiana Mazú
WHO I AM AND ALL I OWN, I CARRY EACH DAY– Emily Norling
HOW I BECAME YOU – Ivana Živković
LIFE AFTER LIFE – Sanja Jokic Dušica Lipovac
MY NAME IS ADNAN AND I'M NOT GOING TO BLOW YOU UP – Adnan Smajić
Walls of Sports – Tomas Rafa
Gravity – Daniela Sagone
Nos Territoires ( Our Land ) – Janvier (Jerome zahno)
My fingers grew and stuck to the asphalt – Vida Mehri
About Exilfilmfestivalen:
Exilfilmfestivalen Malmö is a collaboration between ISS (Iranian-Swedish solidarity Association) and International Exile film Festival in Gothenburg which both are non-profit organizations. The goal is to give the Öresund region (Copenhagen, Malmö) its own adaptation of The Exile Film Festival. The project is funded by Malmö city Culture council. The films screened in the festival are either made by filmmakers in exile, films that are banned in the countries where they were produced, films on the theme of exile and films treating uncomfortable current subjects. The goal of the festival is to be a link between the audience and exile filmmakers and artists, to give these artists the opportunity to find a new platform and new audience and raise an understanding among the audience of what, exile, oppression and exclusion can mean. The first "Exilfilmfestivalen Malmö" was held in 2013 and was well received by the media and the audience, and our guest directors Sahra Karimi and Arash Riahi where intertwined by Swedish morning papers and national TV. The 2016 "Exilfilmfestivalen Malmö" "borderless Minds" will be held between the 9th-14th of February in the newly opened Panora Cinema in Malmö. During 3 days there will be film screenings, art exhibition, workshops and Q&As, in different places in Malmö.