Stories&Moods: Jupiter Child performance, Malmö Gallery Night
Sept 28, 2019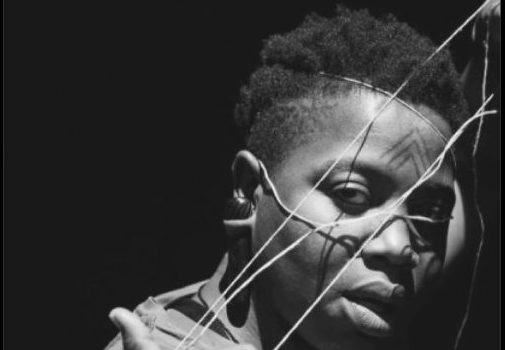 Stories&Moods: Jupiter Child performance, Malmö Gallery Night
Saturday, September 28, 8 pm 
The performance will be held in English. Free entrance.

On September 28, we welcome performer and visual artist Jupiter Child, crossing the bridge from Copenhagen with Stories&Moods, a spoken word and poetry performance to be treasured in the movement of the long Malmö Gallery Night. The deeply personal performance will take place with closed doors, so thank you for arriving on time.  Stories&Moods is part of the public program of the ongoing exhibition Absence that fades after a while: Youngjae Lih and Saodat Ismailova. Lih's and Ismailova's evocative installations can be viewed during the Gallery Night between 6-8 Pm and from 9 Pm till midnight. 
In the artist's words:
"Creativity is an ancient intuition. Art is a modern institution. I use creativity to claim space in the world, to tell the stories of my life and the lives before me. I write about blackness to challenge the misconceptions of my identity. My creativity is political and unapologetic and is meant to inspire others to this creative common world.
In a collection of poems folded in nostalgic childhood memories  and other stories, told in diverse poetic moods, I strive to release the lingering residuals of postcolonial heritage that shaped my identity and set the foundation for the waking and reinvention of my black consciousness."

we scratched the bottom until our nails fell off
we lost a grip of hope for a moment, but yet did not give up
for those we carried on our backs
those we wrapped in our rags of desperation
frustration, retaliation and damnation
we held them above the waters
ready to drown with pride, we were ready to fall at the shores of freedom
cause our determination stood tall and firm, still holding the torch of our conviction

I've been eaten by quicksands , dumped to  "wonderland"
far from my motherland, longing a fatherland?
he sold me this dreamland, cast me beyond swaziland
to the end of times, to the borderline between
day and night, now and never, heaven and hell
good and evil, love and hate, light and dark, human and computer
between our world and others, sanity and insanity, captive and free.

(poem excerpt)
Artist bio:
Jupiter Child is a Mozambican-born artist, residing in Copenhagen. A multifaceted performer and visual artist, drawing inspiration from black history and their Makonde ancestry, Jupiter combines theater, dance, song, spoken word and storytelling. Jupiter's art is an anti-colonial intervention that speaks of resistance, womanism, migration, queerness and empowerment.