Elisabete Finger: INHAKA
Feb 28, 2020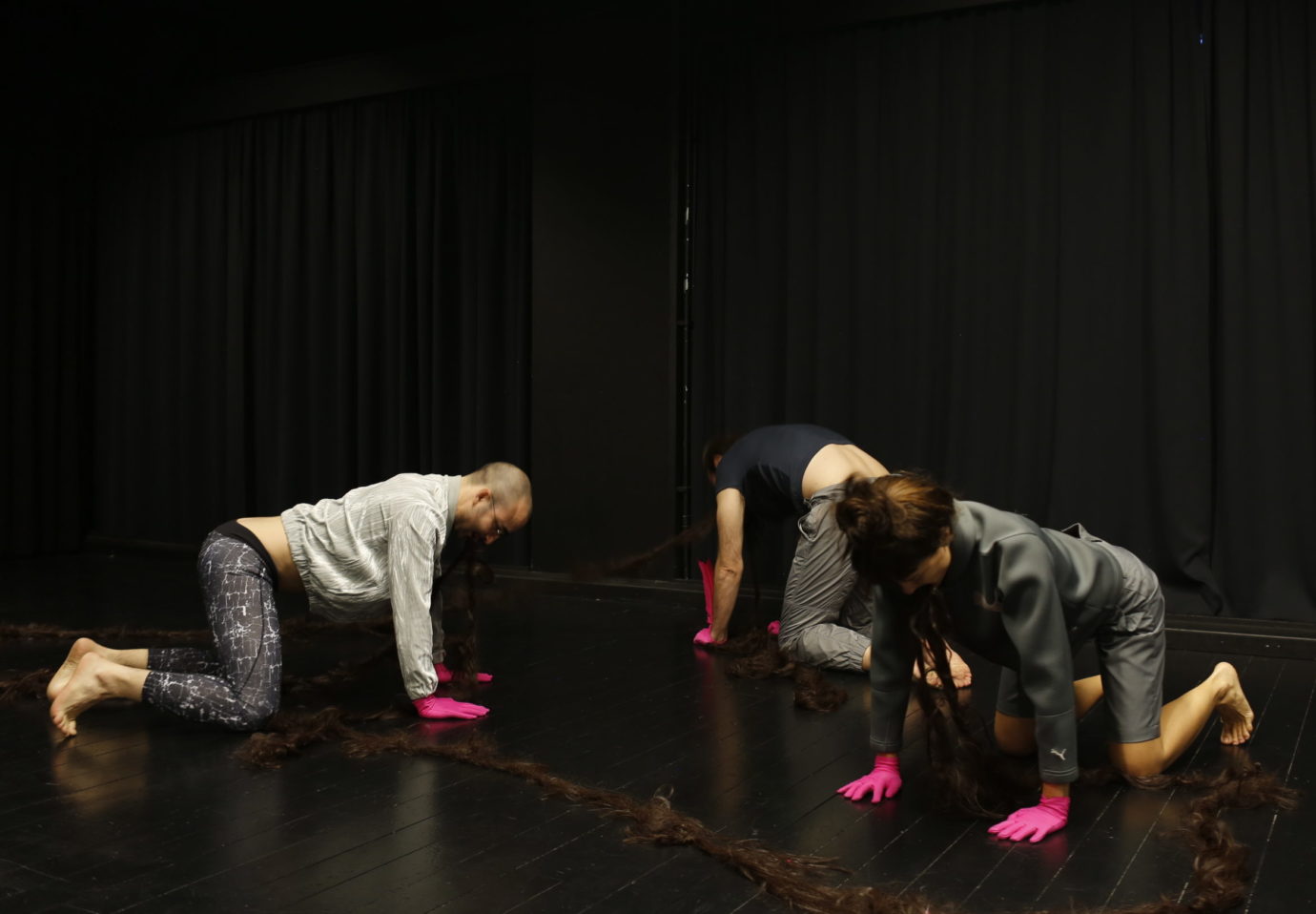 Elisabete Finger: INHAKA
February 28, kl 10.30
For children 3–7 years old, accompanied by an adult
40 minutes + workshop 20 minutes
Free entry
Skånes konstförening presents INHAKA – a dance performance for children by the choreographer Elisabete Finger. With the dancers Jorge Gonçalves, Dinis Machado and Mandi Tiukkanen.
An improbable group of different people and things arrives to an empty space: three dancers, a giant plastic cocoon, an infinite hair tale, three metal eggs, and a feather from a pink duck. They collide and cross each other in a magical ritual reconstructing the materials to different constellations, forms, landscapes and images. The dancers create a space vibrating of an energetic play about what they are, what they can do, and how they can transform. 

INHAKA is a dance for children by humans, plastic, spheres, hair, an ex-duck and other things we don't yet know. The dance is created by the Brazilian choreographer Elisabete Finger who has made several dance performances for children. The performance is 40 minutes and is followed by a short workshop of 20 minutes in which the children can test the materials and different movements together with the dancers. 

INHAKA is produced by BARCO in residence at Inter Art Center (Malmö) through IASPIS/Konstnärsnämnden. The first version of the work was developed in collaboration with the dancers Jorge Gonçalves, Dinis Machado (SE/PT), (PT/DE) and Susana Otero (PT) for Ballet Contemporâneo do Norte (PT) in co-production with Weld (Stockholm).


BIO
Elisabete Finger is a performer and choreographer based in São Paulo. She has presented her work in different contexts in Brazil and abroad, supported by Brazilian and European institutions as such: Itaú Cultural, Festival Panorama, FUNARTE, Ministério da Cultura, Goethe Institute, PACT Zollverein, Fabrik Potsdam, Uferstudios (DE), Weld (SE), among others. Her most recent pieces are PUBLIC DOMAIN (made together with Wagner Schwartz, Maikon K and Renata Carvalho) focuses on recent episodes of censorship in Brazil, and MONSTRA (in collaboration with the visual artist Manuela Eichner). MONSTRA was nominated for the APCA prize in 2017 and was presented by the Museum of Modern Art in Malmö in February 2020. INHAKA is a reformulation of the piece NHAKA and is her fourth work focusing for a young audience.