PROCESSEN I FOKUS med Carousell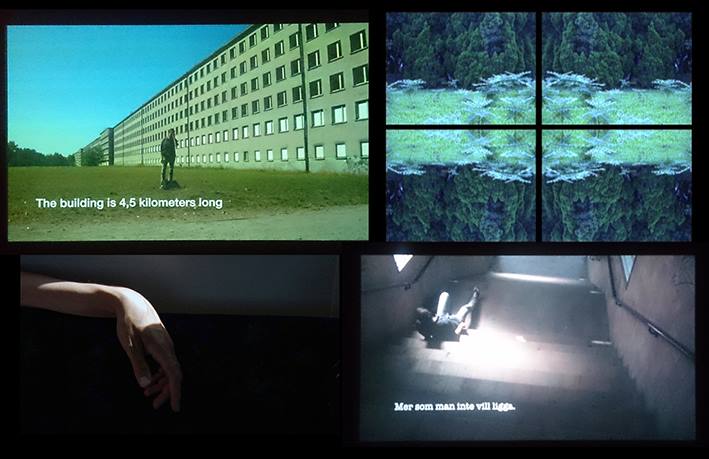 PROCESSEN I FOKUS med Carousell
Lördag 12/12, 12-15
Vi bjuder på sopplunch
Fri entré
Välkomna till ett öppet samtal på Skånes konstförening lördag 12 december 12-15. Vi serverar sopplunch och konstnärerna berättar om utställningen 12-13. Samtalet pågår mellan 13-15
Skånes konstförening och konstnärsgruppen Carousell arrangerar ett öppet samtal i samband med utställningen med konstnärerna Henrik Lund Jørgensen, Marit Lindberg, Kristina Kvalvik och Felice Hapetzeder.
Konstnärerna i Carousell har gett varandra carte blanche att använda sig av varandras material, syftet är att undersöka vad som sker när man ger det vidare och frånsäger sig rättigheten till det. Materialet som utväxlats har en personlig ingångsvinkel, genom utbytet utmanas etablerade föreställningar om konstnärlig upphovsrätt och ett kreativt utrymme kan utvidgas inom videokonsten.
Felice Hapetzeder material består av ett spänt och förlöst möte med en vän till familjen som tidigare hade kopplingar till Nazityskland. Marit Lindbergs material rör sig mellan personliga
resebilder och försök att skapa ett konstprojekt. Kristina Kvalvik filmade under en period sin omgivning med 8mm, men som till slut blev ett material som inte kunde betraktas med distans
och bli ett konstprojekt. Henrik Lund Jørgensen försökte flera gånger efter faderns självmord att påbörja nya videoarbeten, men dessa blev ständigt färgade av tiden med sorg.
Hur mycket av tematiken från det ursprungliga projektet kan kännas igen i en annan konstnärs färdiga verk? Och inte minst, vem är det som ska räknas som upphovsman till verket? Tanken med samtalet är att sätta den konstnärliga processen och aktuella frågeställningar i fokus genom att diskutera pågående konstnärliga projekt.
www.carousell.org
www.skaneskonst.se
Varmt välkomna!
Carousell / Henrik Lund Jørgensen, Marit Lindberg, Kristina Kvalvik och Felice
Hapetzeder.
Skånes konstförening / Thore Soneson, Jeanette Land Schou
Kontakt / Thore Soneson 0734 339222
________________________________________________
PROCESSEN I FOKUS with Carousell
Saturday 12/12, 12-15
We offer soup
Free entrance
We welcome you to a open conversation at Skånes konstförening taking place on saturday the 12th of december, 12-15.
The day starts with soup and a introduction and guide through the exhibition, 12-13. The conversation goes on between 13-15.
Skånes konstförening and the artist collective Carousell host a open collective conversation in relation to the ongoing exhibition with the members and artists of Carousell: Henrik Lund Jørgensen, Marit Lindberg, Kristina Kvalvik and Felice Hapetzeder.
The artists in Carousell gave one another carte blanche to use each others material, thereby investigating what happens when one declines ones own right to decide how the material is used. The material used and shared in the exhibition often has a very personal approach, through the exchange of material the idea of artistic ownership, aura and creative action space is investigated.
Felice Hapetzeder's material consist of documentation of a meeting with an old family friend who had connections to Nazi Germany. Marit Lindberg's material moves between personal material from family vacations and formal video art attempts. Kristina Kvalvik used an 8mm camera to record everything surrounding her, with the aim to compile it into a artwork, she was however unable to establish the distance needed to enable this. Henrik Lund Jörgensen did several attempts to start new video art projects after his fathers suicide, however they were always stained in grief.
What parts of the original theme can be recognized in the ready work? And who is the final author of the artwork? With the collective conversation we aim to investigate questions related to this exhibition and the process that prompted it as well as artistic processes in general.
www.carousell.org
www.skaneskonst.se
Very welcome!
Carousell / Henrik Lund Jørgensen, Marit Lindberg, Kristina Kvalvik och Felice
Hapetzeder.
Skånes konstförening / Thore Soneson, Jeanette Land Schou
Contact / Thore Soneson 0734 339222