Films in the farm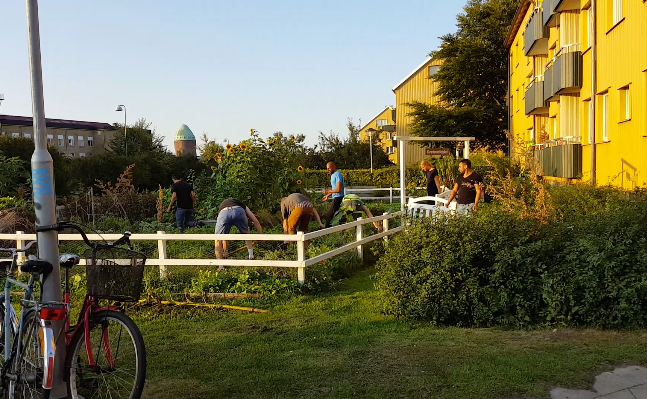 Filmvisning
20-24
I en av Odlingsnätverket Seved's odlingar
Jespersgatan 2 Malmö
Hur ser stadsodlingsnätverk i och utanför sverige på sin praktik och hur förhåller vi/dem oss/sig till frågor om organisering, sociala hierarkier och grön gentrifiering?
Detta är några av frågorna som Odlingsnätverket Seved och andra odlingsnätverk i och utanför sverige har reflekterat kring i kortare filmer som under Gallerinatten visas i en av odlingarna på Seved.
Filmvisningen under Gallerinatten är en första visning av det arkiv som kommer att fortsätta växa. Ett första erfarenhetsutbyte odlingsnätverk emellan. Filmprogrammet och arkivet cureras av Ulrika Flink, Tensta Konsthall.
Skånes konstförening och Odlingsnätverket Seved inledde i början av 2016 ett samarbete som fortfarande försöker hitta sin form. Tillsammans arbetar vi bland annat med ett pågående filmprogram där vi närmar oss frågor om stadsodling, matproduktion och grön gentrifiering utifrån olika konstnärliga positioner och perspektiv.
_________________________________________________
_________________________________________________
Filmscreening
20-24
In one of Odlingsnätverket Seved's farms
Jespersgatan 2 Malmö
How do urban gardening networks in and outside Sweden relate to questions of organization, social hierarchies and "green gentrification"?
These are some of the questions Odlingsnätverket Seved and other gardening networks in and outside Sweden have reflected on in the short films that will be screened in one of the urban farms in Seved during the Gallery Night.
The film screening during the Gallery Night is a first look at the archive of thoughts and experiances that will continue to grow. It is a first step in a process of making groups and organisation working with urban gardening exchange knowledge and strategies. The film program and archive have been curated by Ulrika Flink, Tensta Konsthall .
Skånes konstförening and Odlingsnätverket Seved initiated a collaboration in the beginning of 2016. A collaboration that is still looking to find its format. Together we are among other things working with an ongoing film program in which we approach questions of urban gardening, food production, and "green gentrification" with different artistic positions and perspectives.