Ursula Nistrup: Walls too thin
23 nov – 16 dec 2012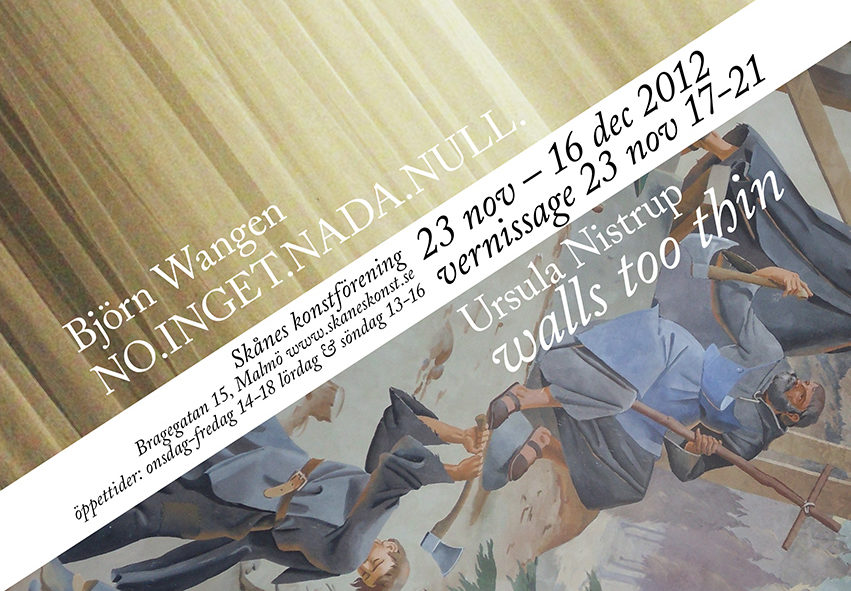 Ursula Nistrups utställning på Skånes konstförening tar sin utgångspunkt i en sägen från sydtyska Mittenwald, känt för sina skogar varifrån violinmakare i långa tider hämtat trä till sina instrument. Samtidigt sipprar ett svagt ljud in i rummet och vi kan ovilligt skönja grannkvinnans skvaller om sin otrogna älskare.
Legend has it that when a tree rolls down a mountainside in Mittenwald, South Germany, home of the special tonewood used in stringed instruments, the violin builders can detect its inherent acoustic qualities by the sound of the trunk in motion. Moments of yet-to-become revelations are transformed into a clear-headed, yet oddly reluctant psycho-architecture in Ursula Nistrup's exhibition. Starting from narrative or documentative investigations, her works spirals away from to become emotional, material and structural indications of secrecy, resistance and exposure. An unseen woman attempting to keep out her neighbors' gossiping about her unfaithful lover, a non-intrusive roof construction marking the etymological crime scene of eavesdropping. Combining sound, installation, sculptural forms, photography and performative research, this incomplete evidence and partial reconstruction speaks to an artistic-forensic pleasure of piecing together, of finding traces of a transformative moment in a spatial design, the silenced tonewood, the double betrayal of a man and a building.
You don't want to hear it anymore, Dusty Springfield? You can't roll up that hill again, but you sure can sing about it.
The exhibition is curated by Kristine Siegel.
This project is kindly sponsored by the Danish Arts Council