Performance och samtal med Runo Lagomarsino
21 okt 2023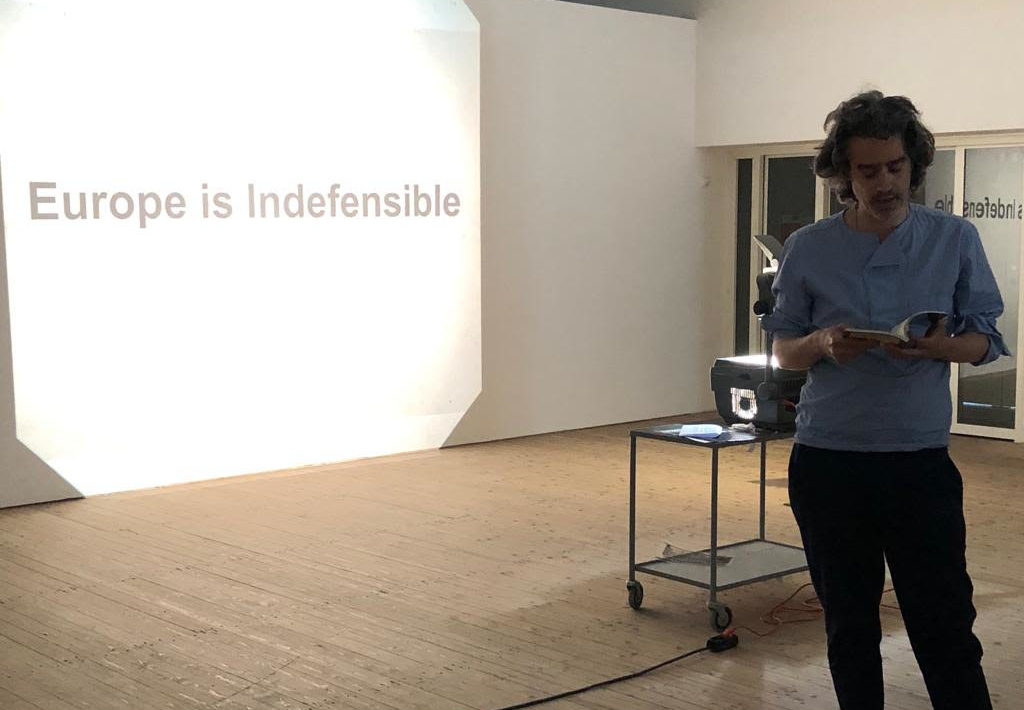 Performance and Artist Talk: Unlike All Other Empires (for Edward Said) with Runo Lagomarsino
On the pulse of water 〜 public programme
Date: Saturday 21 October
Time: 16.00 – 18.00
The event will be held in English.
Please join us for Unlike All Other Empires (for Edward Said), a performance by artist Runo Lagomarsino, followed by a conversation with curator Jari Malta.
Runo Lagomarsino's video work Europa Point (2019) is on view in our current exhibition On the pulse of water (22 Sept – 29 Oct 2023), alongside works by CUSS Group, Lisa Tan, and Tabita Rezaire, curated by Tawanda Appiah. The exhibition contemplates history, points of contact, language, affect, and satire, all unfurling through the fluid lens of the screen.
Unlike All Other Empires (for Edward Said) is a performance lecture in which Lagomarsino uses the rare earth metal Europium (EU) as a tool to reflect on borders, the concept of Europe and the possibilities of action.
During their conversation, Lagomarsino and Malta will unpack some of the recurrent themes articulating the artist's practice. This will also be an opportunity to touch on the vast scope of geographies and historical narratives resonating with Lagomarsino's work (from Brazil and Argentina to the Strait of Gibraltar and Sweden), as well as to discuss the methodologies employed by the artist, including his focus on the relation between discourse and power and his approach to materiality and poetics.
Runo Lagomarsino is an artist who lives and works in Malmö, Sweden. Engaging with a range of mediums, such as installation, sculpture, drawing, performance and action Lagomarsino's practice points towards the gaps and cracks in our explanation models and truth claims, highlighting the precarious foundation of language. His work is a search of fractures, of blind paths from where to tell other stories, and particularly from where to read the past and name the future. With precise and poetic displacements, he constructs frictions between language, iconography and prevailing narratives. Lagomarsino has been exhibited widely including; Moderna Museet (Stockholm), Lunds konsthall (Lund), Francesca Minini (Milano), daadgalerie (Berlin), LACMA (Los Angeles), Museo Nacional Centro de Arte Reina Sofía (Madrid), and Solomon R. Guggenheim Museum (New York). He has also participated in various biennales such as; Prospect.4, New Orleans (2017), The 56th Venice Biennale (2015) and The 30th São Paulo Biennial (2012).
Jari Malta works predominantly as a curator and a writer, both within and beyond institutions. He often engages in slow processes, taking inspiration from friends, youtube videos and dark dancefloors. In 2021 he co-founded Fuxia 2, a collective platform anchored in Malmö seeking to bridge their local scene with artistic processes from Latin America and the South(s) of Europe.