Seved Festival
Aug 24, 2019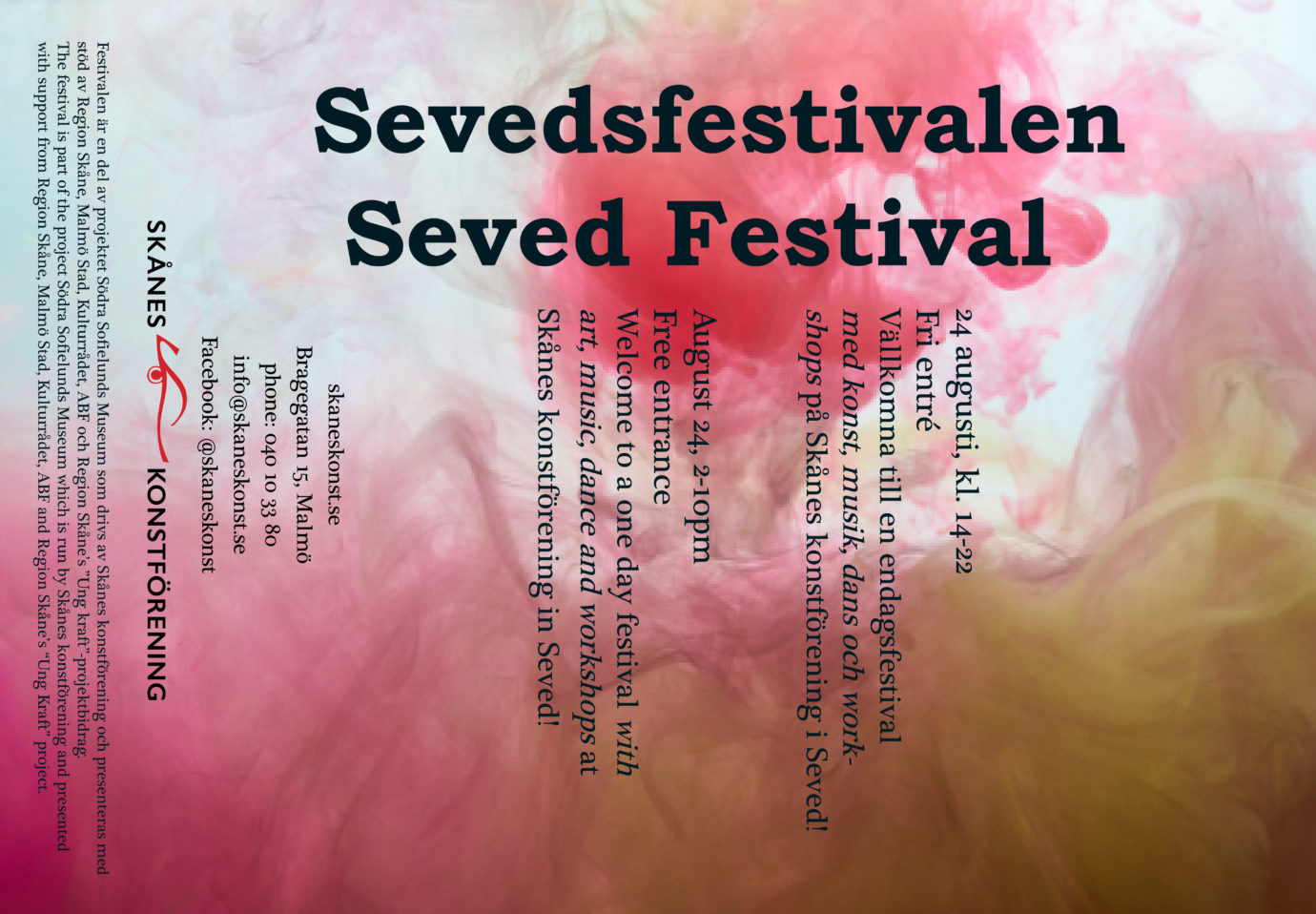 Saturday, August 24, 2–10 pm.
Skånes konstförening, Bragegatan 15, Malmö 
Free admission!

Participants
Imad Altamimi (music)
Sol Anna (art)
Sergio Gio (performance)
Vendela Bergman (photography)
Linn Boekhout (art)
Dance Bee (dance)
Lisa Elofsson (art/poetry)
Insaunas (music)
Gitanas – Romska kvinnor och kultur förening (dance & music)
Alexander Jonsson (craft)
Smiling (music)
Fritz Frittata aka Rasmus Wieselgren (art)
Zynabb (زوزو) (video)

Welcome to the Seved Festival in the old textile factory in Seved, Bragegatan 15. The festival is a one day event for which we have invited young creative people with a connection to Seved to join and show their work. There will be paintings, poetry, dance groups, live music, sculpture, contemporary woodwork, photography and much more! 
Program
14:00 Opening
15:00 Presentation of the screening program (with films by Lisa Elofsson and Zynabb (زوزو)
16:00 Dance bee (dance)
17:00 Sergio Gio (performance)
18:00 Gitanas – Romska kvinnor och kultur förening (music & dance)
19:00 Smiling (music)
20:00 Imad Altamimi (music)
21:00 Insaunas (music)
The festival run by Skånes konstförening is a part of the project Södra Sofielunds Museum that has the aim to create an artistic learning and exploration space for our neighbours and everyone who wish to participate. During spring we hosted a lot of workshops — everything from art walks and clay workshops to investigating what stories this neighbourhood holds. The festival explores what kind of art exists connected to the area and what makers and creative people are living here. 
Skånes konstförening has a bar that serves food and "people's beer". No other alcoholic drinks or food is allowed on the premises.
The project is run by Skånes konstförening and is presented with support from Region Skåne, Malmö Stad, Kulturrådet, ABF and with funding from Region Skåne's "Ung Kraft" project contribution to make young and young adults more involved in the cultural sector.