Release of Delta – An Ocean Call
Oct 22, 2021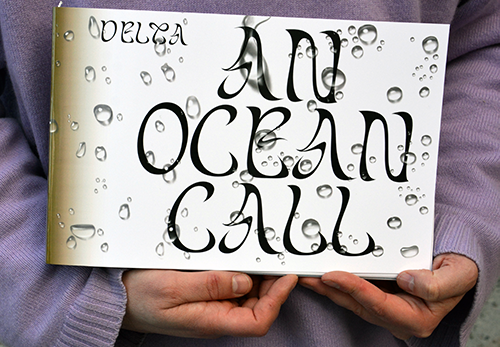 Publication Release of Delta – An Ocean Call
A publication on water histories, narratives and practices published and co-edited by Pontus Pettersson and Izabella Borzecka/PAM.
Program
17–18: Workshop with Pontus Pettersson
18–21: Release of the publication. Presentation of Delta
18.30: Presentation of Delta
Videoworks by Elly Vadseth will be shown throughout the evening.
The Water Practice / Hydrologics
Choreographer and artist Pontus Pettersson (SE) will give a workshop in his water practice using the water aphorisms (The Hydrologics) that are featured in the publication, as a means to become water. By inhabiting and embodying the aphorisms' short directives, we will move into an aqueous embodiment as well as making our own aphorism. You don't need any previous dance experience to participate but please come in comfortable clothes. The workshop is held in Swedish or English, depending on the group's needs.
Sensate Body(s) past, present futures
Elly Vadseth (NO/USA) is an artist and researcher exploring shifting ecological, biological and atmospheric relationships and somatic knowledge. Several of her later video works are shown during the evening, portraying rhythmic, slow, and watery human and more than human choreographies in Oslo's fjords. In her work, she explores interspecies hydro-choreographies with jellyfish and ice affected by temperature increase. Through movement, she researches somatic methodologies to expand relationships and interspecies consciousness related to changing worlds over and below water surfaces. In the publication, she shares this work in a conversation with curator Vibeke Hermanrud.
About Delta
Delta is a coming together
Delta is passionate about choreography as a tool and expression to navigate this world
Delta is a place
Delta is a publication
Delta is an assemblage of a temporal sort
Delta organises through liquid ways, becoming waves
Delta is an exit and entry, an ocean callDelta is organized by Pontus Pettersson and Izabella Borzecka/PAM.
About PAM
PAM is a place for experimental publishing, performance art, and movement-based practices. PAM operates in different locations, situations, and constellations – as a library, residency, publisher, and organizer. PAM initiates and executes cross-disciplinary projects, meeting places, and public interventions. PAM strives to nurture and expand modes of thinking, gathering, presenting, and distributing art practices. PAM is an independent, non-profit organization based in Stockholm, initiated by curator Izabella Borzecka.
Artists and writers featured in the publication: Bronwyn Bailey-Charteris, Paul Maheke, Axel Andersson, Sindri Runudde, Vibeke Hermanrud, Elly Vadseth, Daniela Bershan, Sabrina Seifried, D.N.A. (Dina El Kaisy Friemuth, Neda Sanai and Anita Beikpour), Every Ocean Hughes, Adham Hafez, Pontus Pettersson and Alice MacKenzie.
Graphic design
Sara Kaaman
Delta is supported by Nordic Culture Fund and the Swedish Arts Council.