MALMÖTXT 4
Sept 2, 2016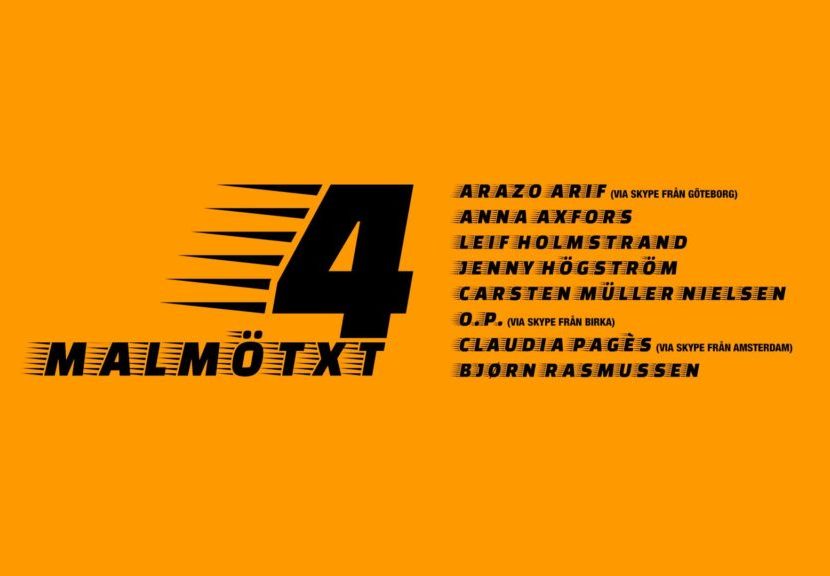 Welcome to the fourth edition of MALMÖTXT!
Opens 19:00. The readings start at. 20:00.
Guests:
Carsten Müller Nielsen (b. 1977) is a poet and writer. https://www.youtube.com/watch?v=92Sa-SJ3Y04
Bjørn Rasmussen (b. 1983) https://sv.wikipedia.org/wiki/Bjørn_Rasmussen
Leif Holm Strand (b. 1972) is a writer, musician and artist, often with a focus on life in the sexual margins to strong physical experiences, loss and resented sexual practices. Now current with the low-key collection of poems "The last day" at Albert Bonniers; Last year was also the novel "Cities that are not cities."
Jenny Högström (b. 1974) is a writer, literary critic and translator, now current with the poetry collection "A small book about meat and processed" on the Pequod Press.
Anna Axfors (b. 1990) is an author and cultural journalist. Swedish Dagbladet recently named Anna Axfors to one of the most important Swedish poets of 40. In the fall, she debuts as a novelist with "Love Letter" (10TAL Book). Axfors in their writing is not strange to use our online contemporary; both as a springboard for themes, the inspiration for aesthetics and publishing channel. She runs the blog "We never wrote prose" on the Bulletin Board, together with Elis Burrau) and has appeared in Aftonbladet and Sydsvenskan.
Skype readings:
Arazo Arif (b. 1991) is a poet, critic and journalist. One of her texts was published in the last issue of "KRITIKER".
O.P. (f. 1993)
Music video for "Vi sess utanför": https://www.youtube.com/watch?v=l7qksOYku2U
Music video for "Kickah Dähn!": https://www.youtube.com/watch?v=oy1BTHwnH04
Claudia Pagès (b. 1990)
Is a multidisciplinary artist who primarily works with language and music to explore labor and economies of bodies through talks, songs, and objects. She has shown her work and performed in different venues such as P/////AKT (Amsterdam), Moderna Museet (Stockholm), La Casa Encendida (Madrid) and SWAB (Barcelona).
http://www.claudiapagesrabal.com/
O P E N
S T A G E
Do you want to read? Send a mail to malmotxt@gmail.com
MALMÖTXT is a platform for readings and discussions.
Past participants include: Elise Alexandersson, Simon Bergil Westerberg, Adam Björelius, Elis Burrau, Alma Edvall Bons, Carl-William Ersgård, Angelica Falkeling, Kristofer Folkhammar, Malin Forsberg, General Liberal, Ylva Gripfelt, Heidi Hakala, Sanna Hartnor, Alice Hedström, Hedvig Holgersson, Zakarias Johnsson, Carl-Oskar Jonsson, Jeremiah Karlsson, Elin Kvicklund, Ludvig Köhler, Michael Larsson, Ludwig Landström, Maria Lepistö, Filip Lindberg, Victor Boy Lindholm, Victor Malm, Petra Mölstad, Lisa Nyborg, Sebastian Saar, Sofia Roberg, Déa Solin, Klara Ström, Philip Stålhandske, Eugene Sundelius von Rosen, Pär Thörn och David Zimmerman.
Follow MALMÖTXT on Facebook (https://www.facebook.com/malmotxt/)
Follow MALMÖTXT on Instagram (https://www.instagram.com/malmotxt/)
Follow MALMÖTXT on Twitter (https://twitter.com/malmotxt)