Liminala rum: Föreläsningar i anläggning för bastu
20 – 21 May, 2017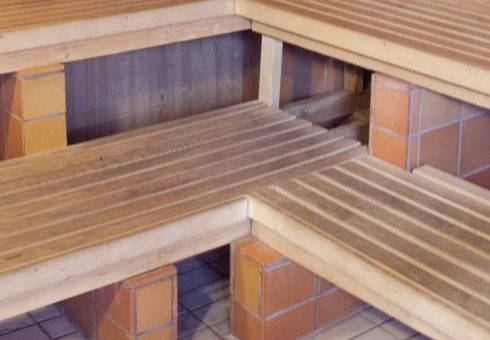 As a part of the ongoing exhibtion Behind the Same Facades the artist Kristin Ylikiiskilä Broberg invites the public to take part in a series of lectures in the two public saunas at Simhallsbadet. The work starts from an exploration of the public dressing room, shower and sauna. Through a series of open lectures in these spaces the boundaries between private and public are explored and analyzed. In these spaces, bodies, memories and expectations share room with each other, as well as with the presence of the history of the pubblic sauna and the ideologies it carries with it.
Lecturers:
Anders P Lundberg is a senior lecturer in social psychology at Linnaeus University and has a PhD in Sociology at Lund University. He works within the field of environmental sociology and religious sociology.
Jonas Frykman is Professor Emeritus at the Department of Ethnology at Lund University. Some of his areas of interest are disciplination and identify shaping structures in Swedish society, as well as how emotions and experiences relate to these processes.
DIS/ORDER is a research based experimental collective founded by the landscape architects Karin Andersson and Johanna Bratel. Their work strives to challenge and investigate what an inclusive city room could be.
Kristin Ylikiiskilä Broberg is educated at Konst- fack in Stockholm and in pedagogy and didactics at the University of Gothenburg. Ylikiiskilä Broberg's practice revolves around forms of presentation, dialogue and everyday situations and objects.