LealVeileby: PRATA PRATA – SPEAK SILVER
23 Nov , 2018 – Jan 20, 2019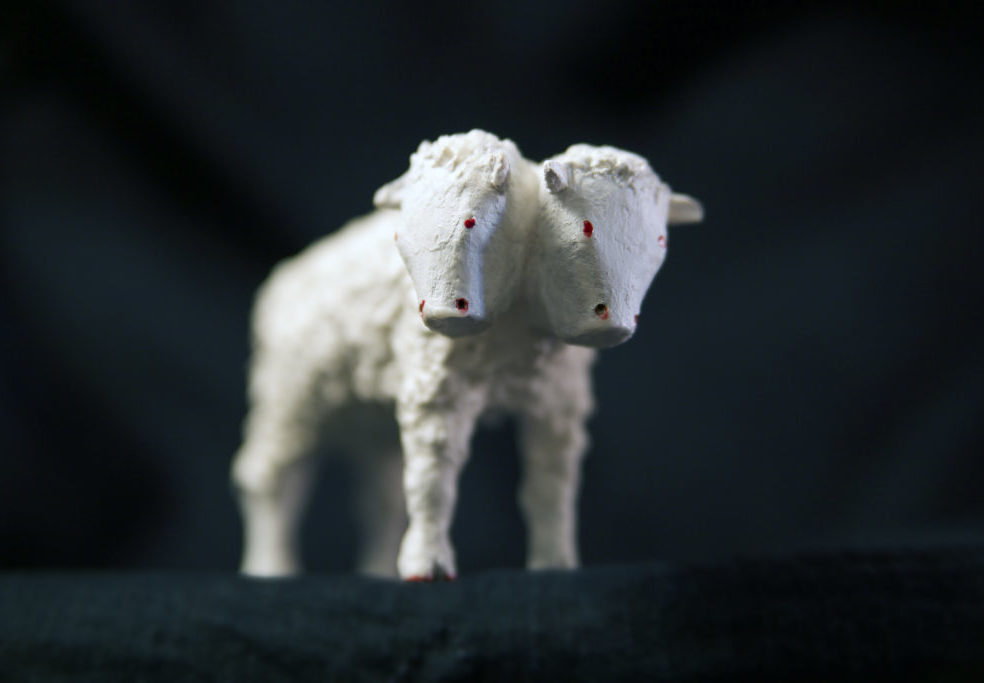 LealVeileby: PRATA PRATA – SPEAK SILVER
Sven and Ellida Hjorts Grant Exhibition
23 November 2018 – 20 January 2019
Skånes konstförening, Bragegatan 15, Malmö
Vernissage/Opening event Unboxing: 23 November, 18.00
Finissage/Lecture Stone of Blue: Matter of Tomorrow, 20 January, 14.00
Prata. A word that means "speak" can also be translated as the word for "silver" as it exists both in the Swedish and Portuguese language. How might these false friends, which share spelling but not meaning, speak to differences in languages that shape the human perception of the world alongside cultural contexts and traditions? Such linguistic (mis)translations are starting points in the exhibition PRATA PRATA – SPEAK SILVER by the Swedish-Portuguese artist duo LealVeileby, consisting of António Leal (PT) and Jesper Veileby (SE). Their artistic process is dialogue-based and the cultural exchange they share serves as a foundation for their work, where they playfully explore how humans look at and make sense of the world.
The exhibition brings together a constellation of new and never before shown works that map the duo's own linguistic clash; the Swedish and Portuguese languages, spoken on opposite ends of Europe, come together to create a new syntax combining texts, videos, and objects. LealVeileby explore the mystical abilities of language to transmit thoughts and ideas, bringing together Fado songs, fables, and non-human communication into video works in which images and texts merge in an anthropomorphic game, exemplifying how easily humans project their own traits through language onto their surroundings. The exhibition features objects that were made through dialogue and in collaboration with António Leal's father Ismael Leal (b. 1933), such as hand-carved representations of animals reanimating the vagabond nature of those featured in the videos. The dialogue also developed into a series of repaired household tools from Sweden, for which LealVeileby elaborately craft boxes to present them in – an act that performs reparation in the midst of a dominate throw-away society. Caught in a conceptual contradiction, the broken domestic objects are shipped from Sweden to Portugal to be repaired and returned with a new function. The artists' humorous approach to addressing issues of production, labour, and craft prompts viewers to challenge their position as consumers and to reconsider the value of art in terms of meaning and materiality.
As part of the exhibition, an artists' publication by LealVeileby will be released with texts and contributions from Elena Tzotzi, Kah Bee Chow, Janneke Schoene, Sixten Hatfield and Ismael Leal. The opening event will include the release of the publication and an unboxing act in which LealVeileby will make the repaired household tools come to new life. For the finissage on Sunday 20th January, they will hold the lecture Stone of Blue: Matter of Tomorrow, an introduction to LealVeileby's latest project.
LealVeileby is this year's recipient of the Sven and Ellida Hjort's Exhibition Grant. The grant is annually given out by Skånes konstförening to young and promising artists based in Skåne, chosen by a grant-committee appointed by the board of Skånes konstförening. The committee of 2018 is: Sixten Hatfield (Skånes konstforening), Kah Bee Chow (Skånes konstförening) and Elena Tzotzi (SIGNAL – Center for Contemporary Art, Malmö).

António Leal and Jesper Veileby have both taken their master's studies at Malmö Art Academy. The duo has had solo exhibitions at Espaço Campanhã (Porto), Konsthall K (Karlstad) and Gallery Pictura (Lund) and a number of group exhibitions in Sweden, Denmark, Portugal, Spain and Brazil. They are represented in the EDP Foundation / MAAT Museum Collection (Lisbon). In 2017, LealVeileby were honoured at the Fuso – Video Art Festival in Lisbon, and they have each received a one-year working grant from the Swedish Arts Grants Committee.
The exhibition is curated by Laura Hatfield and Janneke Schoene.