Julischka Stengele: FatFemmeFurious
Mar 22, 2018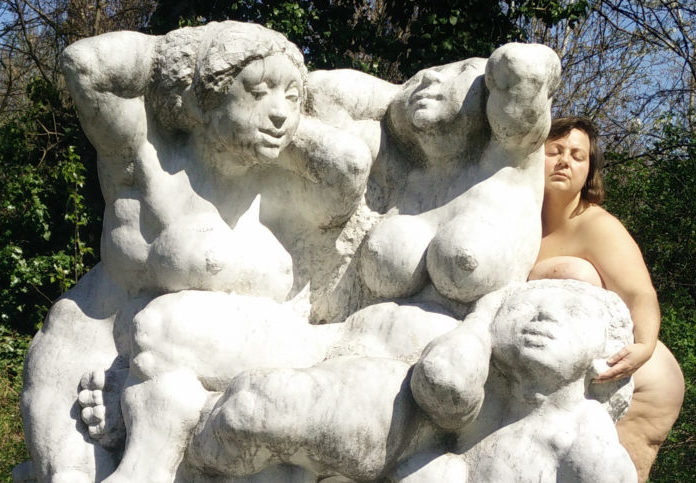 Julischka Stengele: FatFemmeFurious
Thursday, March 22, 19:00-21:00
Skånes konstförening, Bragegatan 15, Malmö
Welcome to a performance by the artist and body activist Julischka Stengele at Skånes konstförening!
[It was early fall in Bucharest. They were having fights in honey, crushed onions, and many bodies were interlaced with the dust and scorched debris of communist factories, now rented piece by piece to discotheques and fitness studios. They were baking 10 kilos of cheap eggplants in an improvised oven in front of a former state depository for books, now transformed in a contemporary museum. My mouth still waters at the memory of that unctuous goodness: eggplant paste with some oil, onion and salt.
The air was permeated with agitation and discontent, with the anxiety of skins claiming their otherness. Julischka's presence filled the air for me, that week. Her body framing the space, her words – sharp and poignant. And one day we were secretly asked to come to a semi-secluded room in that building – to attend a concert. Cisgender men were not allowed in. That felt safe, we were maybe fifteen persons who entered the room. The concert was a duo performance, with another beautiful local artist, Andreea. Julischka and Andreea took off their clothes and started to make music with their bodies, with the creases of their skins, with the sounds of touches and slaps, with the way their bodies brushed against each other and against the space.
We had no permission to take pictures or record, and didn't feel the urge to do that, absorbed in the secret intimacy that permeated us all. It was just a performance for memory, for the archive of sensations that is within us. It was meant to exist only as legend.]
At Skånes konstförening, Julischka Stengele's presence and action opens up a series of future events which aim to re-think the classical idea of the body as archive and mnemotechnic instrument by inviting artists who filter that topic through powerful devices resulting from migration, colonialism, queerness, from their various forms of activism, and who are critical about white affects or about the various heterocracies and able-isms that still function within even the most "open minded" societies.     
In Julischka's words:
I am Julischka Stengele, a transdisciplinary artist, cultural worker and educator. I'm based in Vienna, Austria and work internationally, at any place of interest. I perform, I write, speak, create photographs, videos and installations. I lead workshops, give talks and organise/curate events. The relationship of a body and its environment serves as a base for my work. In particular the fat, classed, gendered and otherwise stigmatised body in its socio-cultural context. Being invested with my own body as content, material, form and/or display is of high significance for everything I do. Although the performative approach is predominant in my work, I'm not bound to a specific medium. I work from an intersectional, queer_feminist perspective, revealing the political dimension of what is said to be personal.
The examination of the gaze, the relationship between looking and being looked at is of central importance in my artistic work. What interests me in particular is the view of socially discriminated bodies, as well as the view of those who are discriminated against, on themselves and the oppressive mechanisms.
In my art, as well as in my work as a nude model, I test strategies for returning such gazes. My own body and the social conditions in which it is integrated are both content and means of expression. The stage – whether in the theater, the life drawing hall or on the street – serves me as a venue for self-determined visibility. I counter precast pictures with my own ones, being unapologetically fat, queer and femme.