Dinis Machado: Yellow Puzzle Horse
14 – 15 Jan, 2022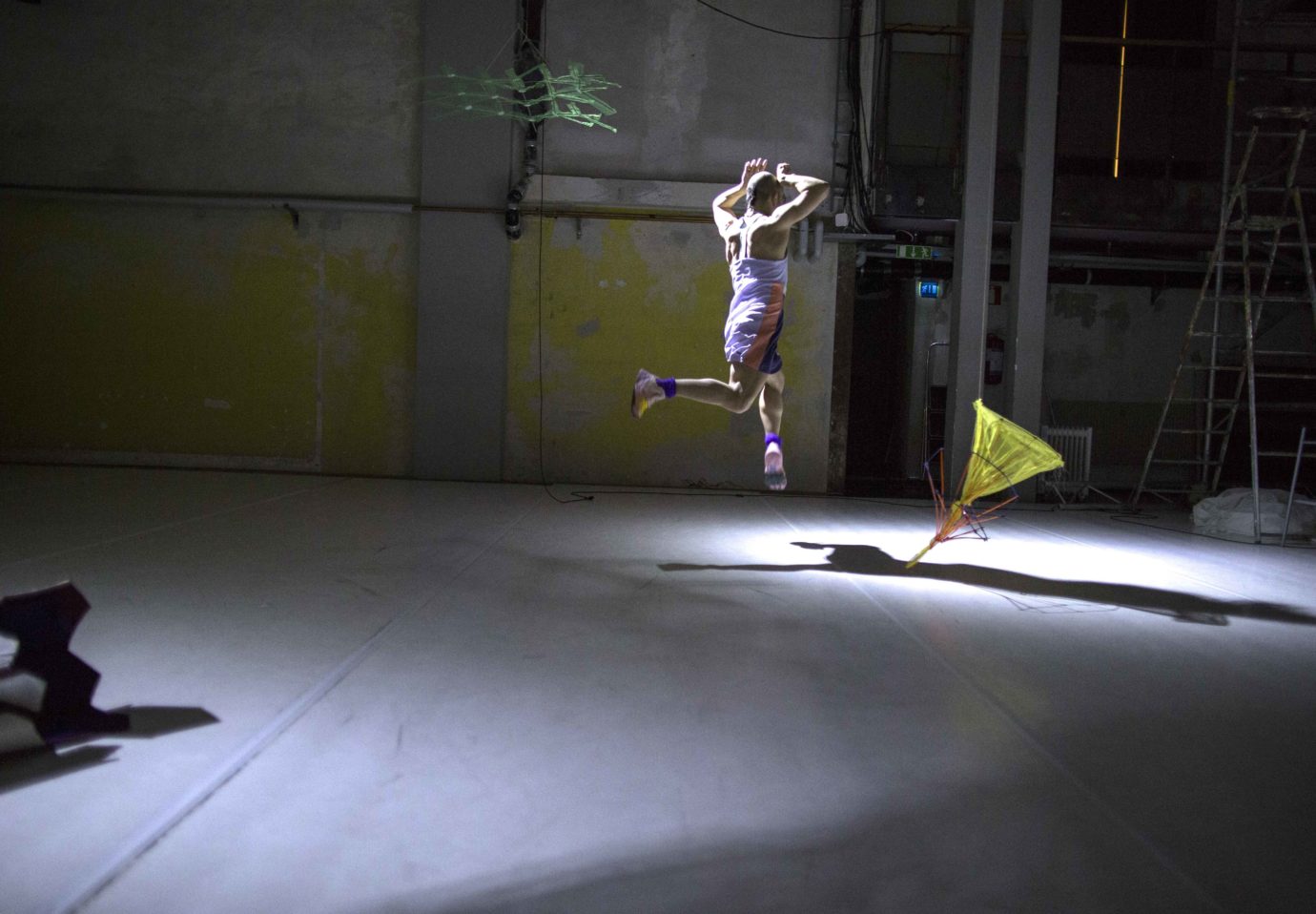 Dinis Machado: Yellow Puzzle Horse
Jan 14, 18.00 and 20.00
Jan 15, 18.00 and 20.00
Seats are limited. Please reserve at info@skaneskonst.se
We follow The Public Health Agency of Sweden's guidelines to make a safe event.
~ ~ ~ ~ ~
What does it mean to be queer when you are alone away from another's gaze?
What is queerness as a relation with oneself?
During the last year, while the world withdrew in isolation, I started spending long periods in the forest whilst thinking, fantasizing and experimenting with this dance. Spending time in the forest made me notice and relate with matter in transformation. The way the same matter assumes shapes as a tree, a bug, a mushroom, a bear or a berry. Also the way the berry becomes the bear when it is eaten, how the tree becomes a mushroom when occupied by the fungus, how the mushroom becomes part of my body when I eat it.
I feel how close our bodies are to becoming the tree and the mushroom – how matter transports itself from constellation to constellation of life – at the same time that my mind is occupied with gender questions – what things I was not expected to do, to feel, to wear, to become. Gender as the forest feels for me like a mutable constellation, where one thing can become another but can also decompose and rest in the space in between, when the tree is neither the tree or the fungus but an unnamed process in between.
Yellow Puzzle Horse is a dance for a self made dress in a constructed forest. This dance is building a fictional body searching a relationship with a dress, while paradoxically dissolving itself in continuous metamorphoses, hosting emotions, imageries, trauma and sensations. Impressions, flashes, vague memories, and emptied out narrative fragments. Moving through desire.
I miss a teenage girl that escaped to the forest.
Her purple sports trousers with low waist and her white lycra crop top.
Her oversized jacket.
Her forbidden cigarettes and her scrambled poetry.
Her euphoric nostalgia and her humorous naughtiness.
I miss her carelessness walking through the woods, disappearing as a protest.
I am this girl sometimes.
– Dinis Machado
~ ~ ~ ~ ~
Choreography, dance, dress, objects and light: Dinis Machado (SE/PT)
Original soundtrack: ODETE (PT)
Footage on stage by Dinis Machado with the advice and support of Lo River Lööf.
Photo documentation of the performance by Lo River Lööf.
Co-produced by Weld (Stockholm/SE), Skogen (Gothenburg/SE), MARC (Knislinge/SE) and ZDB (Lisbon/PT). Residency support of Siobhan Davis Dance (London/UK), Inter arts Centre (Malmö/SE) and Citemor (Montemor o Velho/PT)
Production Support of Metal (Peterborough/UK)
Financed by Kulturrådet (SE), DGArtes (PT) and Arts Council England (UK)
~ ~ ~ ~ ~
Special thanks to Memory Wax and Uli Ruchlinski.