JACQUELINE HOÀNG NGUYỄN: Presence in Absentia: 3 Disappearing Portraits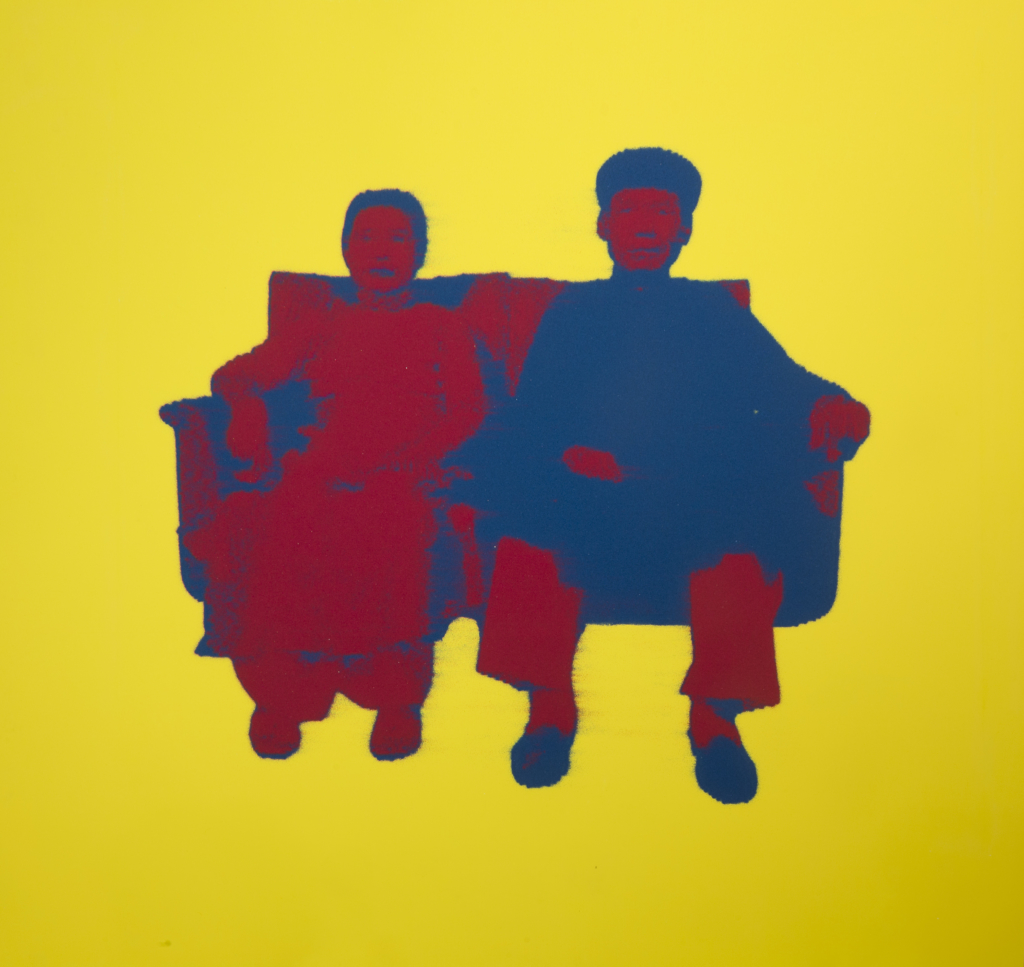 Jacqueline Hoàng Nguyễn: Presence in Absentia: 3 Disappearing Portraits

Sep 18–Oct 17, 2021
Opening: Sep 18 sep Artist talk: Sept 18, 13–14:30
Performance and finissage: Oct 17
Jacqueline Hoàng Nguyễn's Presence in Absentia draws from the Buddhist tradition of mandalas: intricate, laborious designs that symbolize the universe—and that are created to be destroyed. This work is an exploration of love, kinship, and power in the face of colonial violence, history, and the unyielding force of time.

The work features large-scale portraits drawn in colored sand. The artist based the images on family photographs inherited from her great-grandfather Nguyễn Khương (1894-1974). To mark the end of the exhibition, these portraits will be swept away in a performance by artist and choreographer Khamlane Halsackda.

Presence in Absentia is Nguyễn's latest work to emerge from her PhD research at Konstfack and KTH Royal Institute of Technology in Stockholm. But her examination of the fragility of the portraits and of their source materials—of the stories and lives of those who appear in them—go beyond artistic research and applied decolonial theory. These works also hold space for an experience familiar to many diasporic people: the paradox of constant loss and gain.
Curator: C. Grace Chang
ARTIST BIO
Jacqueline Hoàng Nguyễn is a visual artist using archives and a broad range of media to investigate issues of historicity, collectivity, utopian politics and multiculturalism via feminist theories. Currently based in Stockholm, she is a PhD candidate in the 'Art, Technology and Design' program at Konstfack University of Arts, Crafts and Design and KTH Royal Institute of Technology. Nguyễn previously completed the Whitney Independent Study Program, New York, in 2011, having obtained her MFA and a post-graduate diploma in Critical Studies from the Malmö Art Academy in 2005, and a BFA from Concordia University, Montreal, in 2003.Her work has been shown internationally, including at the Bonniers Konsthall, Stockholm (2021); Trinity Square Video, Toronto (2019); The Július Koller Society, Bratislava (2019); CAMPLE LINE, Dumfries (2019); Sharjah Art Foundation, Sharjah (2018); Cantor Fitzgerald Gallery, Philadelphia (2018); MAMA, Rotterdam (2018); SAVVY Contemporary, Berlin (2017); EFA Project Space, New York (2016); Mercer Union, Toronto (2015); MTL BNL at the Musée d'Art Contemporain, Montreal (2014); Kunstverein Braunschweig, Germany (2013); Apexart, New York (2013). In 2017, Nguyễn was the Audain Visual Artist in Residence at Simon Fraser University in Vancouver, and participated in the fourth cycle of NTU Centre for Contemporary Art Singapore's Residencies Program.

ACCESSIBILITY
Accessible entry via the elevator entrance a few meters to the left of the main entrance.
Wheelchair accessible toilet on the 3rd floor. (Please inquire with staff, since the elevator has a lock system.)
COVID-19
We are following and staying updated on all recommendations from the Public Health Agency of Sweden.
We will provide hand sanitizer and perform daily sterilization of all high touch surfaces.
We recommend staying home if you feel ill or have recently felt ill.

Image courtesy of Gallery 44 (Toronto) and photographer Darren Rigo.
Skånes konstförening's exhibitions and programs are supported by Malmö Stad, Region Skåne, The Swedish Arts Council, and ABF.
The exhibition is done with generous support by the Canada Council for the Arts.